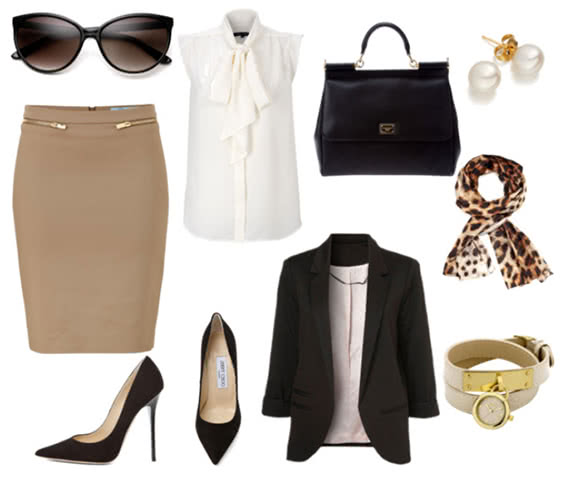 via youqueen.com
If you need to dress smartly for your job, there are several key items you'll need in your wardrobe to make dressing for work all the more easy each morning.
First of all you'll need a sophisticated tailored suit. Whether that suit comes with a skirt or trousers, or you choose to just go for the jacket, is entirely up to you, but when buying a suit remember these few tips:
Double breasted suits look best on slimmer women - they will only add bulk to curvier girls.

A jacket with only one button that nips you in at the waist is more suited to curvy or apple shaped women, as it helps define your waist.

Shoulder pads work on pear shaped women to help balance out their shoulders with their hips.

Trousers that fall to the bottom of your heel will elongate your legs and make the suit look far sharper. You're not going to be wading through water to get to work after all.

If you have a boyish figure, a jacket which nips you in at the waist will help create curves, as will having the jacket end on your hips rather than further down, which will just appear to swamp your figure. Pencil skirts will also help to show off your slim shape while creating a curve from your hips to your knees, giving a very womanly shape.
Spending as much money as you can afford on a beautiful suit is an investment. Not only will you wear it to work, but the jacket especially will come in handy for dressing up jeans for a night out, or when formal occasions arise.
Next you'll want to include some more feminine pieces in your work wardrobe. Just because it has to be smart and practical, doesn't mean you can't look like a woman or wear something pretty to work. Skirts are a great way to add a feminine edge to your work wardrobe. You'll find that stylish pencil skirts are a great addition to your work wardrobe. They're great for any shape as they both enhance curves as well as create them. Fuller skirts are great if you're slim as they add a little bit of shape where you need it, but avoid them if you're pear shaped or fuller figured as they can make you look bulky.
A few smart dresses can be a fantastic addition to your work wardrobe. A black tailored shift dress will go with anything and can be accessorised to create many a different look, whereas pretty yet smart floral or patterned shift dresses, or even smart shirt dresses, are equally as at home in the office as the bar.
A must for any work wardrobe is a pair of stunning black heels, as well as a pair of nude ones. They will go with anything in your wardrobe and the minute you put them on you'll feel like you mean business.
By investing just a few key pieces you will have your wardrobe work ready to go in no time.