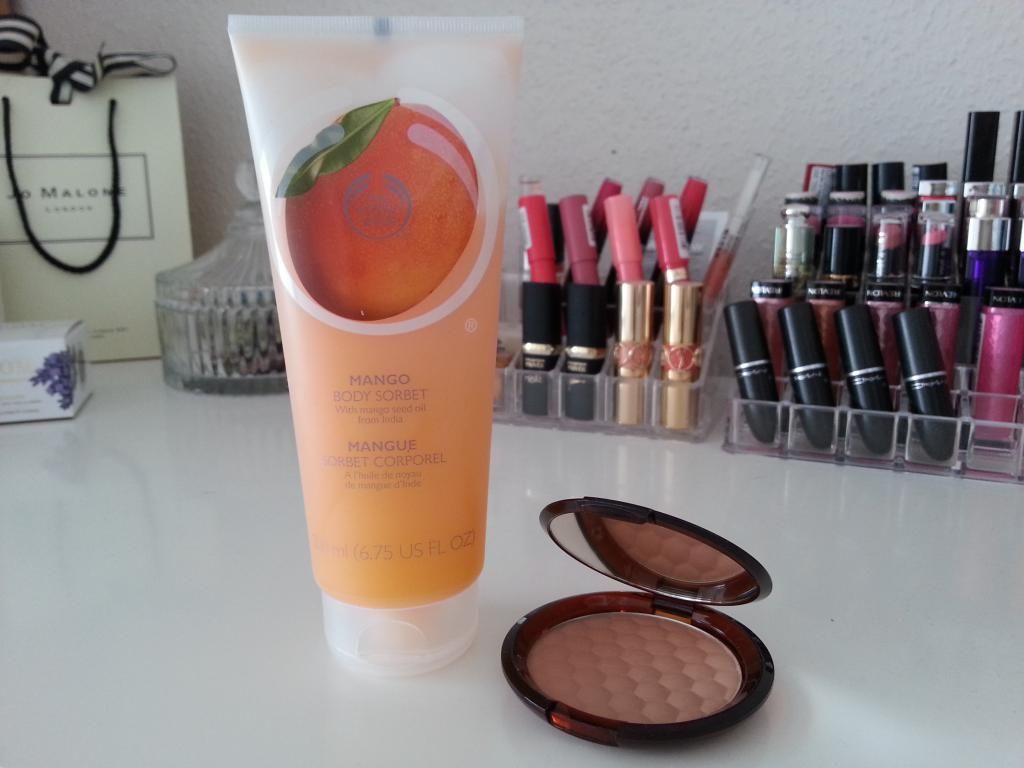 Am I the only one trying to review all the summery products before summer is well and truly over? I am? Alright then.. Tody's post is about two lovely products from The Body Shop, namely the Honey Bronze bronzer and the body sorbet. Both were purchased on a whim, I usually avoid mooching around The Body Shop as I still have a good five or six of their body butters in my stash waiting to be used. However, when their new body sorbets popped up all over Instagram a few months ago, I knew I couldn't resist. Their fruity scents and unusual (but amazing) sorbet texture make them the perfect summer product. I must admit, it feels slightly tacky on appication but it sinks in in a matter of seconds and you're left with super soft skin. Another great thing about these is that your skin feels moisturised without being greasy or slippery in the slightest. I went for the mango sorbet, which has a fruity sweet scent. It's also available in
strawberry, moringa, satsuma and pink grapefruit. Moringa and satsuma are next on my wishlist! TBS hit the nail on the head with these and I'd recommend giving them a go.
Same goes for the Honey Bronze bronzer. This is a bloggers favourite, and rightly so; I'm obsessed with it and being a pale NC20 in MAC, that really is saying something. I went for shade 2 (fair) as it strangely looked a tad bit lighter than shade 1 (light) when I swatched it in store. In hindsight I wish I got the lightest shade, as shade 2 has a slighty reddish undertone. I managed to make it work though and it's become a staple in my makeup bag already. I've never been a bronzer girl, but this little gem completely changed my mind! It makes contouring super easy and doesn't go patchy during the day, something I've experienced with a lot of bronzers before. I can't recommend this bronzer enough, especially if you have pale skin.
Have you tried these products yet? What's your favourite bronzer for pale skin?